Easy ISO 9001:2000 Software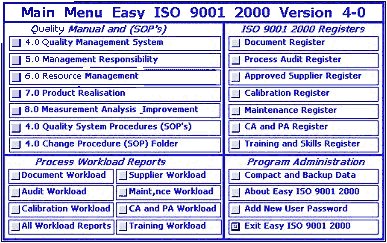 ---
Want ISO 9001:2000 the easy way?
[Contact Us]
Many businesses like yours use our Quality Business Management Software to successfully introduce ISO 9001 2000 or other management systems.
The software was developed by an industry trained Senior Lead Auditor to help businesses like yours to introduce and manage their Quality, or other management, systems both cost effectively & efficiently.
The software comes with a Free Quality Manual, example procedures and full explanations of every clause of the ISO 9001:2000 standard for service, software and mechanical industries. Currently the manual covers ISO9001, 18001, 14001, 27001, 20000, BS25999, ISO 20000 and AS9100 but others can be added as required. This software is totally flexible and is able to produce management reports with a single mouse click. Work flows are in place control your supply chain, monitor complaints, corrective actions, business metrics and much much more. This tried and trusted software has been used by many businesses since it inception in 1995, so why not give it a test drive and see how it can help you maximise the time money and effort you have you have invested in your business.
---
Is your ISO 9001 System a burden?
[Contact Us]
If your ISO 9001 2000 or other management system is a burden, takes you for ever to update and you don't even want to start thinking about audits and corrective actions. Then use our Easy ISO 9001 2000® and let it take the stress out of ISO 9001 2000. Read the software specification below to see how this new and improved software product can get your systems running effectively and efficiently.
---
Easy ISO 9001:2000® specification
[Contact Us]
The Easy ISO 9001 2000® Software was developed by an industry trained Senior Lead Auditor to help businesses like yours to manage their Quality Management or other Business Systems more cost effectively & efficiently, while ensuring 100% compliance with the appropriate standard.

Unlike most other QA software products Easy ISO 9001 2000® is not just a repository for data, though it would be fair to say it does maintain records exceptionally well. The software will manage any business management process where stability or improvement is required. The one click management reports either printed, viewed locally, or globally via the web using the one click Status dashboard is a real time saver.
This exciting new product keeps track of your quality management or other business management system and warns you in advance of any work that needs to be completed such as any audits, re-calibration, customer complaints, BCMS reviews, ISMS Audits etc. This product reminds you in advance of an items requiring attention, never again will you end up with six months of work to complete the week prior to a Surveillance audit.
With a single mouse click you can open and close audits and complaint, it will even print your audit cover sheet for you. You can update equipment calibration and equipment maintenance dates by a day, month or year with a single mouse click; no need to wade your way through maintenance or calibration records.
Your quality manual and other business management, procedures, work instructions, test methods, forms and process flow diagrams can all be edited from within this software. In addition to these functions Easy ISO 9001 2000® comes with a full quality system manual, example procedures and process flow diagram. which can be edited directly from within the program. You might start with ISO 9001:2000, but what if you want to add ISO 27001, (Information Security) TickIT, ISO 14001 or even AS 9100? No problem, just apply for an upgrade to incorporate as many management systems as you like.
Keeping records is an integral part of any Quality or other Business Management System, Easy ISO 9001:2000® will maintain your quality or other business management system records and even control external documents by linking to them from its own document register.
One of the most remarkable things about the "Easy ISO 9001:2000® software is that with one single mouse click it will inform you about work that will fall due within the next thirty days.
Managing the Quality System on which your ISO 9000, ISO 14000, ISO 27001, AS 9100, ISO 20000, BS 25999, ISO 22000 or Kitemark registration relies on is not easy and can be very time consuming. So why not manage your Quality or other Business Management System more Cost efficiently and effectively with our software? It is as powerful as other software in its class but much less expensive to purchase or maintain.
Easy ISO 9001 Software is the easiest way to mange your business, it's intuitive algorithms will keep you on track with your business goals and objectives using simple red, amber and green flags. (RAG) The RAG flag system works for any management standard you choose to use it for, its fully integrated and automatic. It can take an age to prepare system management reports for board meetings, management reviews, customer reports and certification audit preparation but why struggle to find all that data and produce death by powerPoint presentations when with a single click all that data is produced for you.
Easy ISO 9001 Software produces either a print out of the your management systems status or if you don't want to print it you can use the Easy ISO "Dashboard" to view the status of your management systems on screen.
Away from your office desk? No problem. Just access the Easy ISO 9001 dashboard from any computer with web access (subject to permissions on your server) to view and discuss real time data with suppliers, customers and or at other sites within your business, in fact anywhere in the world where you can access the web.
If you are starting a new Quality or other Business Management System or improving an antiquated one our software will dramatically improve its performance and effectiveness by controlling and administering your:
This product is for you if:-
| | |
| --- | --- |
| | Are just starting the ISO 9001 2000 or other management system registration process. |
| | Want to reduce the cost of your existing ISO 9000, ISO 14000, ISO 27001, AS 9100,\ISO 20000, BS 25999, ISO 22000 or Kitemark Business Management Systems, |
| | Want to streamline an antiquated or paper heavy ISO 9000, ISO 14000, ISO 27001, AS 9100, ISO 20000, BS 25999, ISO 22000, Kitemark or other management system. |
| | Want to have an efficient & effective Quality or other Management System. |
| | Want to spend up to 90% less time administering your QMS or other management systems. |
| | Want "real time" information about your business systems. |